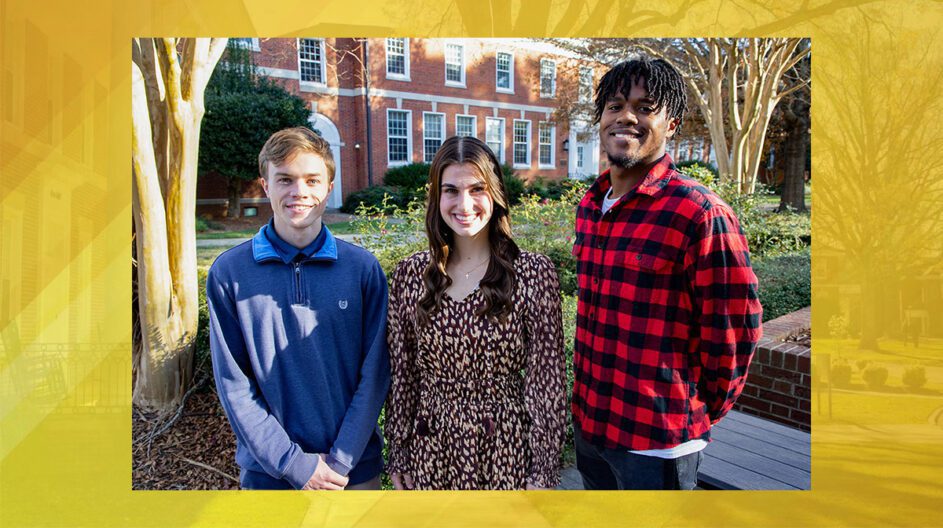 Three Thankful Falcons: Scholarship Donors are Changing the Lives of Pfeiffer Students
by Emma Kate West
Nov 21, 2023
Thanks to the generosity of Pfeiffer alumni and friends of the University, Pfeiffer University students Gabby Edwards '25, Jackson Bradsher '25, and Myles Davis '24, are feeling extra grateful this Thanksgiving season. Gabby, Jackson, and Myles, like many other members of the student body, are the recipients of three different types of University scholarships. Though these students' lives and their scholarships differ, the impact is all the same: life changing.
Gabby Edwards is a beneficiary of The Pfeiffer Fund and a North Carolina native of Catawba. As a second-year student at Pfeiffer, she has wasted no time getting involved on campus. Edwards is a member of Pfeiffer's Honors Program, a student-athlete on Pfeiffer's volleyball team, vice president of the Student Government Association, a Student Admissions Ambassador, one of the leaders of Pfeiffer's Delight Ministries chapter (a Christ-centered community for college women), and a member of various campus organizations such as the Criminal Justice Club, Fellowship of Christian Athletes, and the Campus Activities Board.
Edwards is a double-major in Criminal Justice and History. She has completed internships with the City Attorney of Albemarle and the District Attorney of Catawba. Edwards says she has always been interested in a career in law or politics. She plans to study abroad in the Spring of 2024 in Barcelona, where she will examine the differences between the United States' criminal justice system and Spain's criminal justice system.
Edwards says her university scholarship – provided by The Pfeiffer Fund – has been instrumental in her ability to attend Pfeiffer and learn through the Pfeiffer Study Abroad Program and her various career-focused internships.
"When I found out, I was in shock," she said. "This scholarship allowed me to experience opportunities I never even imagined I would be able to experience. I am eternally grateful for the generosity of donors to The Pfeiffer Fund!"
Jackson Bradsher, recipient of the 2023-2024 Paul Ervin Annual Scholarship, describes himself as a "Carolina native," as he was born in South Carolina. His father served in the United States military, so his family moved frequently during his childhood. In 2011, his family settled in North Carolina. Bradsher recalls feeling happy that he could start "growing roots." While he once found it difficult to connect as "the new kid," he has easily connected with others since arriving at Pfeiffer. He has also started to genuinely enjoy learning, which quickly helped him find his passion.
Bradsher states, "Pfeiffer's religion classes and professors inspired my interest in theology and history; Dr. Hume has been a big influence in my path to finding my purpose."
Bradsher is now a double-major in Theology and History. He hopes to pursue a doctorate in History and attend seminary in order to "teach history during the week and preach on the weekends." Bradsher has been able to get a jump-start on his career goals thanks to his scholarship.
"My scholarship allows me to focus solely on my education, which makes it easier for me to reach my full potential," he said.
Bradsher has recently started teaching a class on theological concepts to his fellow Falcons as an offering of Pfeiffer's Francis Scholars program. He believes it is crucial to educate others as he feels education is the pathway to "getting closer to understanding each other as Christians and closer to God's truth." He says receiving the Paul Ervin Annual Scholarship for pre-ministerial students made him feel encouraged by his community and confident in his ability to educate others.
Myles Davis is the recipient of the Roberta Clark ('63) and Dr. James E. ('63) Morris Endowed Scholarship, awarded to a junior or senior involved in campus life, including service on the newspaper staff. In addition to his work with the newspaper, he is a Student Admissions Ambassador, a communications work-study student for the Pfeiffer Life Program, and previously served as manager for Pfeiffer's Men's Basketball team. Davis is a senior majoring in Strategic Communication & Social Media with a minor in Psychology.
Davis and his family are from Charlotte, North Carolina. His mother is a long-time employee of Charlotte-Mecklenburg Schools, where she teaches kindergarten. Davis' grandmother is also an educator, having worked in higher education as a faculty member at Pfeiffer University.
As the child and grandchild of educators, Davis is committed to investing himself in his education and college experience. He says he's "changed for the better since coming to Pfeiffer. I have come out of my shell and feel like I have found my purpose. There is something exceptional about Pfeiffer. I feel the faculty and staff are devoted to encouraging and fostering my growth – professionally, academically, and as a human being."
Davis plans to train as a pilot upon graduation. He feels his degree in communications and minor in psychology will provide him with a versatile range of knowledge and help him "nurture this passion from the inside out." He expects to experience other cultures as a pilot and believes his Pfeiffer degree will provide a good foundation for effective and empathetic communication. Davis is exceptionally thankful for scholarship aid, including the Morris Endowed Scholarship, which allows him to attend Pfeiffer, where he feels he's meant to be. Scholarship donors are making a profound difference in the lives of Pfeiffer students: students who are not only intelligent but well-rounded, valuable members of the Falcon community. And Gabby, Jackson and Myles couldn't be more thankful!