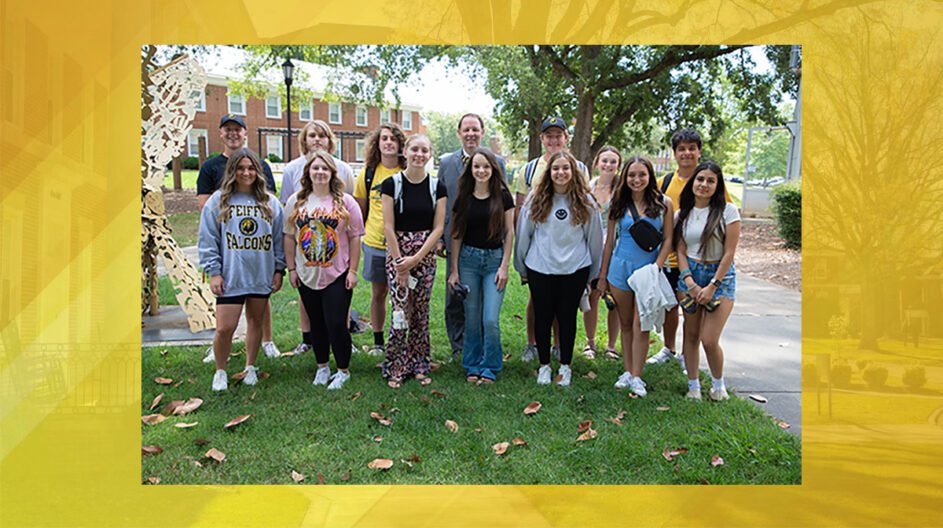 Scholarship recipients, from left, front row: Caroline Vanhoy, Madison Lomax, Mckinlee Coble, Layla Simpson, Braelyn Couick, Annika Schneider, Gisell Acosta; back row: Wyatt Reeder, Reece Gentry, Peyton Gentry, KJ Cooper, Reagan Waggoner, Jaime Jaramillo. Not pictured are Cayman Buck, Hailey Caudle and Luke Webb.
Stanly County's Brightest Earn Presidential Honors at Pfeiffer University
by Taylor Brigman
Sep 14, 2023
Pfeiffer University has awarded 16 gifted Stanly County high school graduates the presidential scholarship. The presidential scholarship is given to those who graduated high school with a GPA ranging between a 3.5 and 4.0.
The talented local graduates started their education at Pfeiffer this fall and have already grown close to the campus. "From the moment I started, it felt like home. I love the small community feeling and how everyone knows everyone. It is very comforting to know I have a family here at Pfeiffer," said Pfeiffer freshman Annika Schneider.
Pfeiffer is delighted to have welcomed such bright local graduates. "Pfeiffer University and Stanly County Schools have enjoyed an authentic and collaborative relationship for decades.  Over the last several years we have welcomed dozens of Stanly County students to Pfeiffer University to continue their educational journey," said Dr. Dawn Lucas, Pfeiffer's interim dean of the undergraduate college.
Dr. Lucas expressed her excitement regarding the new Pfeiffer Falcons. "This year we are thrilled to have a record number of Stanly County Schools alumni entering as Presidential Scholarship awardees. We look forward to watching their growth in the classroom and the positive impact they will have on our community as they progress through their respective programs," she said.
With 95% of students receiving financial aid, "we have made a real effort to give our local students a quality education at an affordable price. On average this group of students is paying less than $1,500 a semester to attend Pfeiffer," said Emily Carella, Pfeiffer University's vice president for enrollment management.
While some of the freshman entered with a desire to pursue degrees in Business, Health and Exercise Science and Nursing, many remain undecided and are using this first year in their Pfeiffer journey to explore majors and career fiends such as criminal justice, education, outdoor leadership, and the sciences.
Scholarship recipients include Gisell Acosta, Cayman Buck, Hailey Caudle, Mckinlee Coble, Kade Cooper, Braelyn Couick, Peyton Gentry, Reece Gentry, Jaime Jaramillo, Madison Lomax, Wyatt Reeder, Annika Schneider, Layla Simpson, Caroline Vanhoy, Raegan Waggoner and Luke Webb.