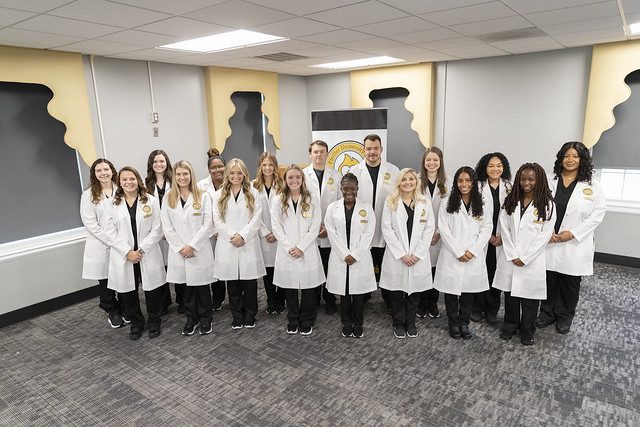 White Coat Ceremony Oct. 2022
Seventeen Nursing Students Now Wear White Coats
by Ken Keuffel
Oct 27, 2022
Dr. Scott Bullard, President of Pfeiffer University, has called on its junior nursing students to study hard and to nourish their souls as they don new white lab coats signifying the extension of their learning to direct patient care in healthcare settings.
"The Scriptures would say, 'Study to show thyself approved,'" he said during the Department of Nursing's annual White Coat Ceremony on Oct. 6.
Bullard added that nourishment of the students' souls could come from "reading something unrelated to your discipline" and by loving "on those people who have loved you" because "it will feed you as much as it feeds them."
White coat ceremonies have long been a fixture at schools of medicine, dentistry and pharmacy, but they have caught on at nursing programs only fairly recently. Dr. Martha Bramlett, an associate professor who chairs the Department of Nursing at Pfeiffer, told the ceremony's attendees that Pfeiffer's nursing program was one of the first in North Carolina to feature one.
"The white coat symbolizes professionalism," she said. "It marks the transition from theory in the classroom and simulation experiences with mannequins in the lab to caring for patients in the clinical setting."
Bramlett added that each white coat comes with a Pfeiffer nursing logo which brings together three important elements: the heart, which represents humanity; the flame, which represents the light of nursing and the legacy of Florence Nightingale; and the cross. The cross "represents the church-related vision of the University, which encourages our students to embrace the Christian values of human dignity, integrity, and service," she said.
All told, 17 nursing juniors received white coats on Oct. 6. They were Hailee Cagle, Ashley Cody, Shannon Gallant, Sydney Hall, Briana Hanson, Samantha Ingold, Payton Jackson, Pesu Josu, London Little, Jessica McNeill, Jacob Norman, Shereka Rowell, Sidney Seaford, Coleton Shugart, Gracie Sprinkle, Micah Welborn, and Jayla Young. They'll each provide patient care in area agencies such as Atrium Stanly, Atrium Cabarrus and Novant Rowan, as well as in hospitals in the North Carolina cities of Charlotte and Matthews.
Pfeiffer's nursing program is among the most successful in North Carolina, as measured by how many of its students pass the National Council Licensure Examination (NCLEX), the nationwide examination for the licensing of registered nurses, on their first try. The North Carolina Board of Nursing publicizes pass rates for first-time attempts only. Pfeiffer's three-year pass rate was 93 percent in 2021, "which places us among the top ten BSN programs in the state," Bramlett said. She added that all students in Pfeiffer's nursing program who were seeking employment had contract offers prior to graduation. All students who were successful on the NCLEX are now employed, and most are employed in their first choice of positions, she said.