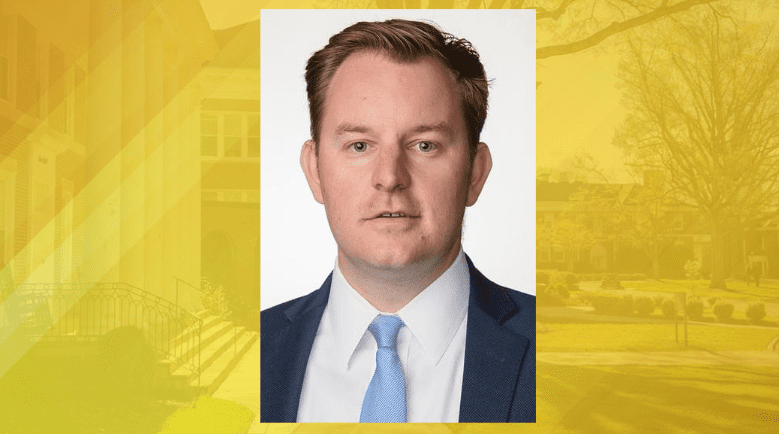 Pfeiffer Provides Groundwork for Successful Law Career
by Ken Keuffel
May 10, 2022
Houston Armstrong '13 majored in pre-law and minored in psychology at Pfeiffer University.
The combination planted the seeds for post-Pfeiffer success: Armstrong attended Suffolk University Law School in Boston, Mass. He earned a Juris Doctor degree from that institution in 2017, the year he also began working as an Assistant District Attorney in the Appeals Unit of the Suffolk County District Attorney's Office.
Since August, he has been an Associate Attorney in the Property Insurance Litigation and Antitrust Practice Group of Rupp Baase Pfalzgraf Cunningham LLC, a firm in Buffalo, NY. He and his fiancée, Kathryn Cornell, also an attorney in western New York whom he met at law school, will marry in early June.
At Pfeiffer, Armstrong remembers attending small and interesting pre-law classes taught by professors he enjoyed and in ways that favored collaborative learning over simply listening to a professor deliver a lecture. The classes' topics touched on everything from American government and politics to the differences between American law and English common law. More often than not, students would familiarize themselves with a case related to a topic, weigh the merits of a case's opposing sides, and then hash out why a particular decision was reached in a court of law.
"You could engage in discussion and get involved," he said. "That was beneficial for law school because some professors believe in the Socratic method, where they randomly call on you for a day, and for the entire class, you're responsible for answering their questions. You learn to think on your feet, and you learn the importance of coming to class prepared."
Armstrong originally hails from Clemmons, N.C., near Winston-Salem. In a sense, Pfeiffer had always been on his radar: His parents, Roger Armstrong '82 and Sherry Foushee Armstrong '80, attended Pfeiffer College, as did his uncle, Dr. Joseph Armstrong '82. He may have been laser-focused at Pfeiffer on laying the groundwork for law school and a career in law, but he also found many ways to broaden his horizons beyond his major. In addition to minoring in psychology, he played on the men's soccer team (he was its captain his final season and won the Coach's Award), and became involved in Special Olympics and the Fellowship of Christian Athletes.
He also began participating in several impactful internships and short-term jobs, many law-related, before landing work as an Assistant District Attorney in Boston. One of the most memorable happened before his senior year at Pfeiffer in the summer of 2012, when he interned in the United Kingdom for Tom Brake, a Member of Parliament serving the Carshalton and Wallington constituency of London, England. Armstrong's duties ranged from managing a petition to save a local hospital to sorting and distributing mail from constituents.
He also wrote a letter on Brake's behalf that called for extending an underground commuter rail line to downtown London out to the Carshalton and Wallington area. This was sent to none other than Boris Johnson, who was the Mayor of London at the time.
The letter to Johnson, who is now the Prime Minister of the United Kingdom, explained the pros of extending the commuter line for Brake's constituents. "It was a really cool assignment," Armstrong said.
Armstrong has compiled a rather diverse resume in law so far. In his current position, in Buffalo, he represents clients in first-party, third-party, and subrogation cases in State and Federal Court, through all stages of litigation. Among other things, he drafts court filings, deals with discovery, reviews and redacts voluminous case files, and prepares and conducts depositions.
When he worked as a District Attorney, Armstrong prepared briefs and argued appeals before the Massachusetts Supreme Judicial Court and Appeals Court. The work included responding to post-conviction motions for new trial, conducting evidentiary hearings on those motions, and responding to motions for post-conviction forensic testing.
Armstrong initially intended to specialize in business law. He planned to take only those courses that would prepare him to be the kind of general counsel a company turned to handle litigation or to draw up contracts.
When a "blunt" professor learned of Armstrong's plan, he strongly objected. "He told me that the worst thing I could do was to pigeonhole myself in a concentration during law school," Armstrong said. "He encouraged me, instead, to take classes on any area of the law that remotely interested me. I took that advice to heart and absolutely ran with it."
Armstrong acquainted himself with a range of subjects, including maritime law and employment law. He also augmented his classroom explorations with several internships. Eventually, a class on appellate practice, taught by an appellate judge, so piqued his interest that he sent a letter to every district attorney's office in Massachusetts.
Eventually, he landed interviews with several staffers in the Suffolk County District Attorney's Office. The conversations, which took place on Valentine's Day, were intense, often gauging the quality of his legal reasoning. They went well. They took an especially positive turn when Jack Zanini, Armstrong's future boss in the D.A. office, learned that he had played soccer at Pfeiffer. Zanini said that he was playing a game of pickup soccer that evening in a high school gymnasium. He invited Armstrong to join him.
Armstrong sensed an opportunity to seal the deal over a shared interest. There was just one problem: He had made plans to celebrate Valentine's Day with his fiancée that night. Undaunted, he called her up, told her that he'd had a fantastic interview, and professed his strong interest in working for the Suffolk County D.A.
In the end, he joined the soccer game and played well, having lobbied successfully for postponing his celebrations with Cornell until the following evening. The whole thing turned into a running joke, with Armstrong often telling Zanini, "You realize that we spent Valentine's Day together and then you offered me a job."