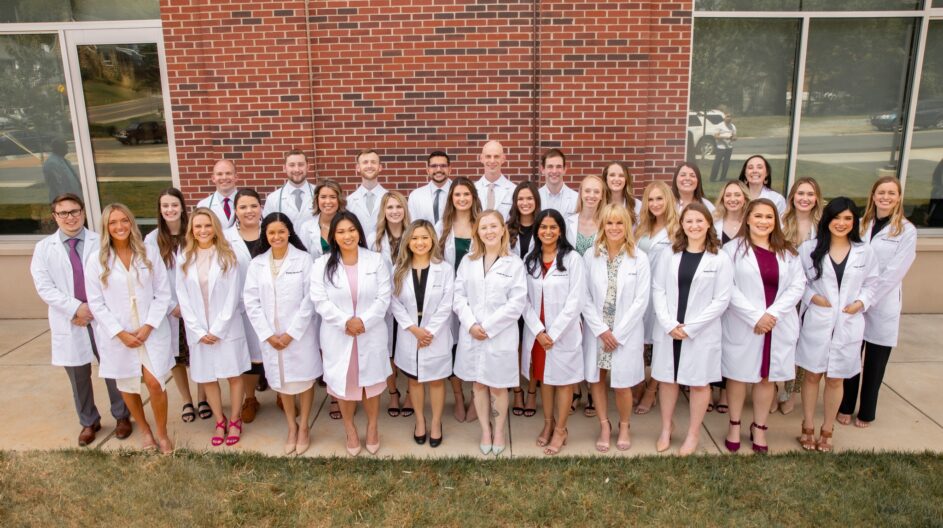 PA Students Score Exceptional Pass Rate on Licensure Exam
by Ken Keuffel
Sep 28, 2023
Thirty-three recent graduates of the Pfeiffer University Master of Science in Physician Assistant Studies (MS-PAS) program are certified for employment as PAs and ready to help support the increased demand for primary and specialty care providers.
According to the US Bureau of Labor Statistics, employment of physician assistants is projected to grow by 28 percent from 2021 to 2031, much faster than the average for all occupations. Further, an average of about 12,000 openings for physician assistants are projected each year, over the decade. This projected increase represents the overall growth of the PA profession and its role in the response to an increasing need to bolster the clinician workforce in underserved areas.
Pfeiffer is pleased to announce that each member of its 2023 cohort has passed the Physician Assistant National Certifying Exam (PANCE), and 97 percent of them passed on their first try. Pfeiffer's first-time pass rate for PANCE now surpasses the national average of 93 percent.
Dr. Scott Fisher, Associate Professor of PA Studies who serves as the Chair and Program Director of MS-PAS at Pfeiffer, credited several factors for the great PANCE results.
"Our students worked exceptionally hard to prepare themselves for the exam," he said. "Their commitment was supported by outstanding clinical partners and faculty, as well as a state-of-the-art learning facility.
Additionally, we had wonderful support from members of the Albemarle community who acted as standardized patients for simulated patient encounters and from the University, which made sure we complied with accreditation standards."
Eli Hatley '23 MS-PAS echoed Fisher's sentiments: "Because our class was very close knit, we helped each other throughout the entire process of PA school. We were just able to find ways to help each other get through."
Candace Locklear '23 MS-PAS said that Pfeiffer's PA program placed a premium on imparting the most current evidence-based knowledge in lectures — which came in handy during the PANCE exam.
She also welcomed the challenging tests that followed each clinical rotation: "If you didn't pass, you'd have to remediate. And if you had to remediate, you literally had to take a day off from your clinicals to come back to the school to retake it. You were pushed to make sure you passed."
Locklear, once an Emergency Medical Technician who also substitute-taught in the public schools of Robeson (N.C.) County, says she's utilizing her background as an educator "to help empower patients through healthcare education."
She also wants to be "a voice and advocate for patients' rights in regard to receiving the healthcare they need and want for themselves." Pfeiffer paved the way for her to do just that: Since August, she's held the title of Physician Assistant Certified at Cabarrus Rowan Community Health Centers Inc., which serves non-insured and underinsured patients. As such, she's fulfilling the terms of a full-ride scholarship provided by the National Health Service Corps, which requires its scholarship recipients to serve in a "federally qualified health center."
Locklear said she loves her job and may well stay with it for the long haul: "We're genuinely helping people that may not have insurance or are low-income. We're doing all we can to help these patients."
Hatley is equally happy with the work he landed after graduation. Since July, he's worked as a Certified Physician Assistant at ApolloMD, having been contracted through Atrium Health Stanly to provide ER coverage.
"I enjoy the fast-paced nature of my job along with the collaboration amongst my colleagues to ensure excellent patient care," he said. "I also enjoy my schedule, which consists of three to four 10-hour shifts a week."
Hatley credits Pfeiffer's MS-PAS program for his current success: "They gave me tools to ensure that I had the knowledge needed to competently provide patient care to those in need. The quality instructors that sculpted my educational experience provided me with evidence-based medical knowledge and allowed me to develop my critical thinking skills to a higher degree."