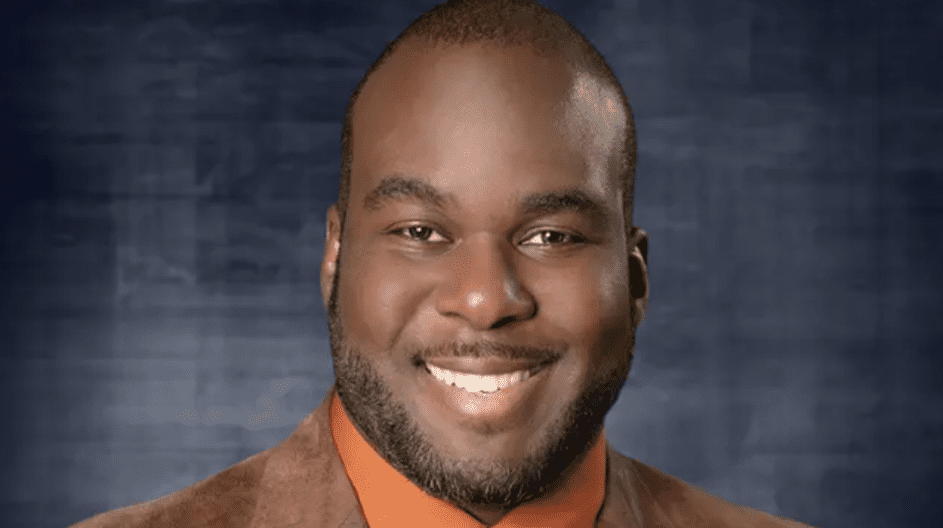 Merit Award Affirms Matthews' Early Career Success
by campus
Sep 13, 2021
Chris Matthews '12 MSL, '16 MFT, the recipient of Pfeiffer University's 2021 Presidential Merit Award, is the founding owner and clinical director at Relationship Counseling Group, LLC in Charlotte, N.C. He stresses what many premarital or newlywed couples hear with some frequency: building and sustaining healthy relationships takes work.
"The relationship is work," said Matthews, who holds a Master of Arts degree in Marriage and Family Therapy from Pfeiffer University. "In too many cases, though, couples lack the necessary relationship tools. That's the luxury of my web-based video courses and relationship coaching. They're providing tools to make that work easy and fun."
The courses, part of a four-part "Master Class," are offered in tandem with coaching sessions that Matthews leads, either in person or, increasingly, online. The program is one of the latest steps in his previously stated goal of developing his own client care system.
Matthews characterizes the program as his answer — with a marriage and family therapy emphasis — to the work that the author and pastor Gary Chapman created in his Five Love Languages industry of books, podcasts, courses, and public-speaking engagements.
The coaching sessions and the courses (which build on and/or help clients retain the key points of the coaching) have been available since April through Relationship Counseling Tools, an "online center" of resources for maintaining healthy relationships. The aim is for each partner in a couple to feel secure, heard, understood, and loved. The tools that a couple develop include ways to listen empathetically, de-escalate an argument, and counter defensiveness with mindfulness.
Matthews fulfills the criteria for Pfeiffer's Presidential Merit Award (for alumni 35 and under) because he has excelled early in his career and shows potential for continued success. He began his efforts to build a brand of national scope when he published Finding Your Relationship Fix: The Four Reasons Couples Seek Counseling (Gatekeeper Press, 2020). This "outlines the most common reasons couples go to therapy and demonstrates how these issues are treated in counseling."
Earlier this month, he introduced the four-part Before You Fall in Love: The Ultimate Dating Course Series. This aims to prevent someone from falling in love with the wrong person — a partner who would cheat, be abusive, have an addiction, or lack the right communication skills.
"It's better to prepare and prevent than it is to repair and repent," Matthews said, quoting an aphorism of Ezra Taft Benson (1899-1994), the 13th President of the Church of Jesus Christ of Latter Day Saints.
The prepare-and-prevent philosophy also applies to the offerings in the "Master Class" as well.
"Most people who divorce or have a rocky relationship will say to me, 'Man, if we had had this information before the problems arose, we would have actually been able to stay together,'" Matthews said. "So, that's really the whole premise of the courses, to be preventative."
Matthews credits Pfeiffer's MFT program for planting two seeds that led to his current entrepreneurial ventures. The first was a course on researching, which "taught me how to look up evidence-based and scholarly materials needed to write a book or apply tools into a course that can render proven outcomes."
The second seed taught him how to think systemically.
"For example, when I talk about infidelity, I'm not isolating the cheating," he said. "I'm looking at the ingredients that come together to produce infidelity."
Matthews is so grateful for his Pfeiffer education that he has committed to give back in concrete ways. For example, he recently established the Chris Matthews Marriage and Family Therapist Annual Scholarship, which provides $1,000 each semester for a male student in the MFT program.
The scholarship, which was first awarded last year, aims to support men who are looking past "feelings of isolation" to pursue a career in the female-dominated field of marriage and family therapy. It also calls for Matthews to mentor the scholarship's recipient.
"My goal is to be a trailblazer when it comes to educating Pfeiffer's younger alumni on the value of giving back," Matthews said. "And, I hope to continue to blaze a trail in my professional life as well. I want to continue evolving and finding new ways to support and help my clients."
---
Ken Keuffel, who authored this article, has served as Pfeiffer's Assistant Director of Communications since December 2019. He welcomes story ideas from Pfeiffer's faculty, staff, students, alumni, and friends. The form for submitting story ideas is Story Idea/News Item Request Form.