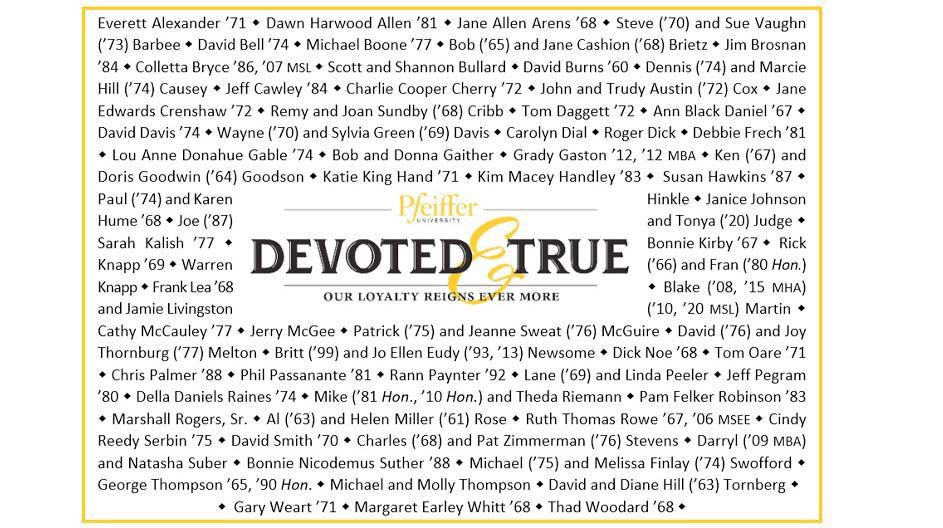 I am Devoted and True.
by Pfeiffer University
Jan 25, 2022
I learned more with a smaller faculty to student ratio.
Personal connections with professors made a difference in my confidence and my career.
Since more people knew more people, students didn't get left behind.
Pfeiffer provided my compass.
Pfeiffer is Home.
Alumni and friends give to Pfeiffer for these reasons and more. But a special group of Devoted & True donors are investing in the University's mission with multi-year commitments to provide a steady stream of unrestricted support that Pfeiffer can depend on to prepare graduates for purposeful living. Their trust and commitment is laying the foundation for fundraising growth in the years ahead.
Why is fundraising growth so important? Because the value of a Pfeiffer degree goes up and down depending on what the University does, how it's portrayed in the news, and how it improves over the years. Financial support helps determine what the University can accomplish, which protects a student's investment of time and money to earn a degree. With promises of reliable gift revenue, Pfeiffer can expand and improve academic and athletic facilities and program offerings, grow enrollment, and engage alumni in new ways. All supporters – led by those who make a Devoted & True gift commitment – make a meaningful difference for today's students and strengthen the investment that so many alumni have made in years past.
"I had a wonderful college experience made possible by my professors, coaches, and our legendary security guard, Les "Snake" Roberts! I am grateful for the many lifelong friendships that began at Pfeiffer and wanted to commit financially to help continue that legacy," said Bonnie Nicodemus Suther '88, who joined Devoted & True in 2020.
Becoming a member of Devoted & True requires a commitment to give an annual donation of $1,000 or more for five years, to The Pfeiffer Fund. Your endorsement – by pledging now and paying later – is a comfortable and sustainable way to provide unrestricted support that helps drive Pfeiffer's impact and innovation. Gifts of cash, stock or property, IRA distributions, or matching gifts from your employer can fund the $1k annual minimum qualification for membership. Donors may also make automatic monthly donations via credit card or bank account debit, to fulfill their annual pledge payment.
"Over the years, I have looked at my time at Pfeiffer with appreciation for the bonds forged, challenges met, and opportunities that have continued throughout my lifetime," said Jeff Pegram '80, who became a Devoted & True member in 2021. "I am reminded of what Thomas Wolfe says in Look Homeward, Angel: 'I am, he thought, a part of all that I have touched and that has touched me.' As alumni who give back, we all can rest assured that Pfeiffer continues to touch others for coming generations. Pfeiffer is home!"
There are many ways to show your support for Pfeiffer University. Young alumni just starting out can contribute a smaller gift to help build a high percentage of participation upon which colleges are often ranked. Donations restricted to sports, academic programs or scholarships offer additional funding for unexpected opportunities. A Devoted & True commitment provides leverage or a "ripple effect" well beyond its own value, helping the University address institutional priorities in a well-planned and predictable manner.