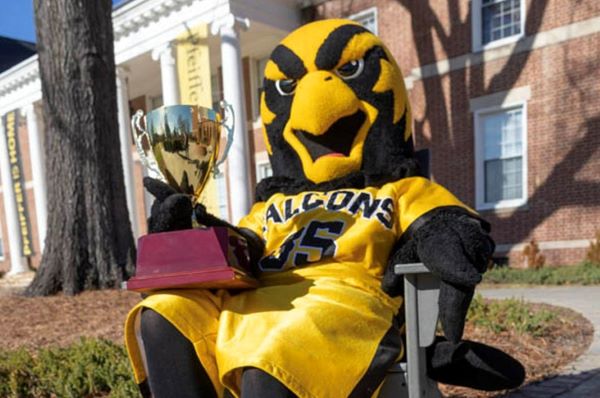 Freddie Challenges Alumni to Count for the Cup on Pfeiffer Day
by Ken Keuffel
Feb 21, 2023
From Start to Finish on 3.23.23, Stick with Pfeiffer
Whether it's read backward or forward, the date for Pfeiffer Day – a palindrome – is the same: 3.23.23. And it's just one of the ways to help Pfeiffer Falcons remember to celebrate their alma mater this year. Pfeiffer's mascot, Freddie, is also kicking off some pfriendly competition to "Count for the Cup" and earn the bragging rights that come with the Freddie Cup, a BIG beautiful trophy awarded at Homecoming to the class with the highest percentage of donors for Pfeiffer Day!
"Pfeiffer Day is all about giving back to this place that made a positive difference in your life. It's about recognizing the people, traditions, and opportunities that changed you for good. Stick with Pfeiffer on March 23rd for the professors, coaches and mentors who encouraged you and for the friends you found here!" said Jo Ellen Newsome '93, '13, VP for Institutional Advancement.
"My life was impacted by so many Pfeiffer people – those are the memories that have stayed with me. Also, maybe cultural credits – you might say that part of my college experience continues to stick in my mind, too! We hope alumni will reminisce about the things that have stuck with them, and then, stick with Pfeiffer in 2023," she said.
Leading up to Pfeiffer Day, alumni are invited to join President Scott Bullard on March 16th for his annual Pfeiffer Day Update. The presentation begins at 7 pm EST on pfeiffer.edu/live but will also be available on demand after the 16th.
Count for the Cup!
Alumni gifts and pledges for Pfeiffer Day received before midnight on March 23rd will Count for the Cup as classes battle to come out on top of the competition. The Freddie Cup trophy recognizes excellence among Falcons and will be presented at Homecoming on September 23, 2023, with the Freddie Cup honor going to the class with the highest percentage of donors for Pfeiffer Day. Gifts may be made early by mail or online at give.pfeiffer.edu/pfeiffer-day-2023, where a leaderboard will track the progress of each participating class on March 23rd. Gifts of any size increase the participation total for the donor's class, but because the Freddie Cup recognition is based on Pfeiffer Day results, only gifts made for Pfeiffer Day count.
Double your Dollars!
Alumni can double the impact of their donation by giving in response to a matching offer or challenge. Warren ('66) and Fran ('80 Hon.) Knapp have issued the first match opportunity, which will match gifts to The Pfeiffer Fund. Any alumnus can issue his or her own match or challenge opportunity at give.pfeiffer.edu/pfeiffer-day-2023.
Turn your Support into Pfeiffer Gear!
When you make your own Pfeiffer Day gift and then inspire your friends to do the same, you can snag new University gear – a thank you for Sticking with Pfeiffer! Promoting Pfeiffer Day is as easy as an email, social media post, or "selfie video" from your phone. But you have to sign up as an Advocate first. Visit give.pfeiffer.edu/pfeiffer-day-2023 and click the button to learn how.
Check your mailbox soon, for the 2023 Pfeiffer Day mailer, and stay tuned for Pfeiffer's emails and social media posts in the coming days for news and updates.
#stickwithPfeiffer #countforthecup #Pfeifferishome