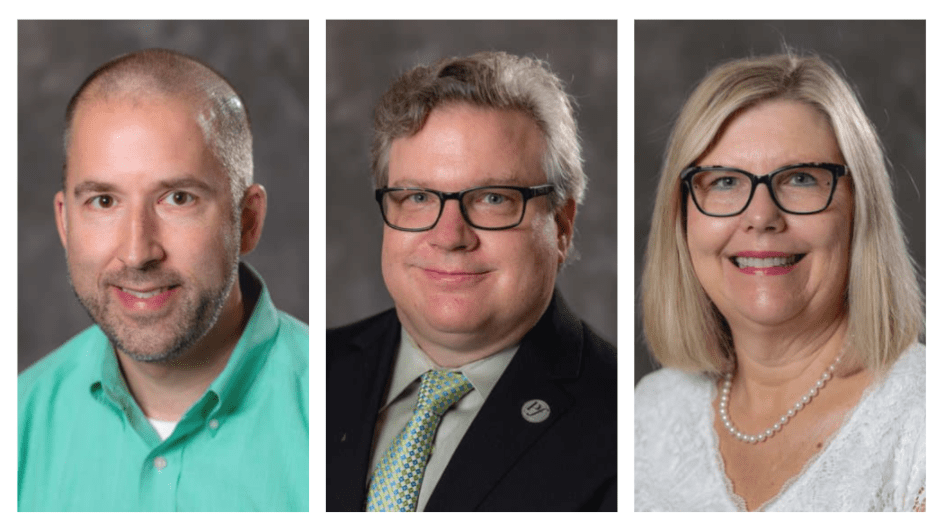 Faculty Promotions Reflect Expertise and Accomplishment
by campus
Nov 17, 2021
Two faculty members at Pfeiffer University have achieved the rank of Professor, and another was promoted to Associate Professor. The new Professors are Dr. Christopher "Doc" Howard (Business Management and Leadership) and Dr. Douglas Hume (Religion and Practical Theology). Dr. Susan Furr has been named an Associate Professor of Nursing.
Howard, who's now a Professor of Business Management and Leadership, began working as an assistant professor at Pfeiffer in 2010, having earned a doctorate from Regent University. He views mentoring students both in learning and in life as his primary mission.
"My goal in every class is to get students to become more self-aware, because I don't believe you can effectively lead or manage people if you don't know yourself," he said. "My students know that I care about them, which is why I can push them further than they thought they could go."
Howard's accomplishments include leading Business Management and Leadership (BMAL) through an extensive curriculum change that began to take shape about seven years ago, when he was chair of the program. It entailed adding courses titled Survey of Leadership, Global Leadership, Organizational Change, and Business Communications. In the process, the program's curriculum came to stress the development of skills in five areas: decision-making, communication, collaboration, critical thinking, and global awareness.
"All this came straight from what employers said they were looking for, as far as skills, out of our graduates," Howard said. "The proof is in the recent graduates' success in landing jobs and being quickly promoted, because they have these skills at higher levels than their peers."
Howard has also guided the University's business programs to accreditation by the Accreditation Council of Business School Programs, and he has authored his first book, Be Different: Finding the Resilience to Lead (2020, Kindle Direct Publishing). He has facilitated leadership workshops for two German universities: Hochschule Weserbergland in Hameln and Technische Hochschule Mittelhessen in Gießen.
Howard's next goals include more research and publishing. He also wants BMAL to add programs in marketing, global leadership, and economics. He favors more experiential learning embedded into the curriculum, with students engaging in community service projects, state and national competitions, international travel, and internships within their desired area of interest.
Hume, who's now a Professor of Religion, joined Pfeiffer as an Assistant Professor in 2007, two years before he earned a Ph.D. in New Testament Studies from Princeton Theological Seminary. Hume's current research interests are reading the New Testament as texts of trauma (and for trauma survivors) and reading the New Testament through the lens of disability studies. He wants to explore these topics through teaching and through workshops with church groups.
A prolific author, Hume has published numerous articles, reviews and two books. His first book is titled The Early Christian Community: A Narrative Analysis of Acts 2:41-47 and 4:32-35 (2011, Mohr Siebeck). His second book is Virtuous Friendship: The New Testament, Greco-Roman Friendship Language, and Contemporary Community (2019, Missional Wisdom Library).
Virtuous Friendship explores how the community of the church might be expressed in innovative ways through a reexamination of contemporary friendship and of ancient friendship practices of the church. Hume wrote the book while teaching a course on friendship for Pfeiffer's third year seminar. Students in the seminar helped him explore topics related to the book, and they provided feedback on some of the early drafts of chapters. Hume hopes to lead readings of Virtuous Friendship with groups in churches, stressing that it is designed for a lay audience.
Hume has made his mark in areas beyond scholarship. He chairs the Department of Humanities at Pfeiffer, overseeing programs in Art, English, History, Music, and Religion. He has secured nearly $1 million in grant funding for faculty development and for various programs at the University, including Pfeiffer University's Youth Theological Institute (YeTI). The Lilly Foundation funded YeTI, and grants from NetVUE and The United Methodist Church have supported faculty and staff development retreats for discernment of vocation and the common good, as well as paid internships for religion majors in local churches and nonprofits.
Hume's peers elected him President of the Society of Biblical Literature Southeast, and he has served as Vice Chair and Chair of the Southeastern Commission for the Study of Religion. He's currently serving a three-year term as the Regional Coordinator for the Society of Biblical Literature Southeast.
Furr joined Pfeiffer's inaugural nursing faculty in 2011 as an Assistant Professor of Nursing. After leaving Pfeiffer in 2015 for personal reasons, she returned to the University in 2018. She holds two advanced degrees from Gardner-Webb University: a master's degree in nursing administration and a Doctor of Nursing Practice in nursing education.
Furr is the Co-Faculty Advisor of the Nursing Club, which enables pre-nursing and upper division nursing students to get to know each other through service-learning and health-related activities. She has participated with the students in the Susan G. Komen Walk for Breast Cancer along with other community service events.
Furr helped to re-establish the Nursing Living Learning Community, which promotes professional and personal development for each nursing student and fosters student-professor relationships outside the classroom.
"Being a member of the Nursing Living Learning Community promotes nursing student success," Furr said.
Currently, Furr is working with several colleagues on obtaining a grant to fund the purchase and training for the Missouri Community Action Poverty Simulation, which aims to expand its participants' understanding of poverty.
Furr has authored several publications and made presentations at international and national conferences. She intends to do more of that work in the future.