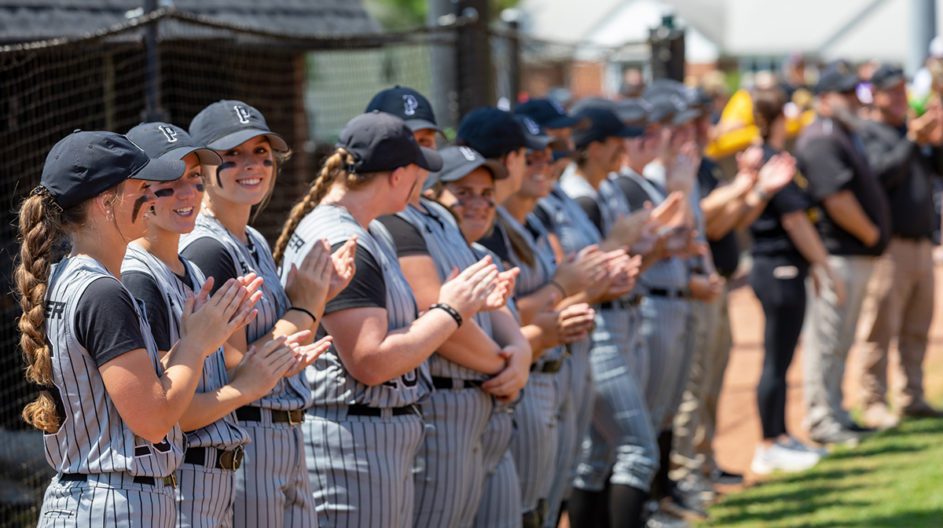 Pfeiffer Women Excel in Spring Sports
by Ken Keuffel
May 24, 2022
Pfeiffer Women Excel in Spring Sports
This past March, Analise Robinson '25 of Winston-Salem, N.C. was on a roll, having scored six goals in two games in her first season as a midfielder on Pfeiffer's women's lacrosse team. Those impressive stats prompted the USA South Athletic Conference to name her Rookie of the Week during the week of March 21.
"It felt amazing and so rewarding," she said recently. "I had provided my team with huge help in the midfield — and made a huge statement to our conference."
Because of the COVID-19 pandemic, Tonishea Ford '21 of Farmville, Va. was granted an extra year of eligibility to compete in track & field while she pursued a Master of Science degree in Financial Fraud Investigations. She made the most of this unusual opportunity, making the USA South All-Conference's 1st Team as a champion hammer thrower and the USA South All-Conference's 3rd Team as a discus thrower. She was also named the USA South's Field Athlete of the Week during the week of April 4.
"It feels good to accomplish what I did," she said. "I went in with the mindset of being ready for anything, and it paid off."
Robinson and Ford exemplified many strong performances by Pfeiffer's female student-athletes during the spring semester. All told,15 women across four sports won 23 awards, including 13 Player of the Week awards and 14 all-conference awards. Each sport also had one representative on the USA South All-Sportsmanship Team.
Freshmen were well-represented among the award winners: Softball pitcher Emma Bullin '25, of Ararat, N.C., won a Rookie of the Year award, as did outfielder Gracie Griffin '25 of Calabash, N.C.
Griffin set a very high bar for the future freshmen on Pfeiffer's softball team. She put up outstanding numbers as a hitter, finishing the season with a .410 average, and her fielding percentage was .931.
Griffin credits her success with "the exceptional support from my coaches through their mentoring, leadership, and motivation," She also plugged a sisterhood of teammates who "provided a bond of friendship and support second to none."
Megan Rekieta '25, a tennis player from Lubbock, Tex., won the USA South All-Sportsmanship award, and she made the USA South All-Sportsmanship Team.
Rekieta credited the support of her teammates for her success on the tennis court. And she thanked Justin Fainter, the head coach of men's and women's tennis at Pfeiffer, for having "found me all the way in Texas."
Fainter "cares so much for his team and would do anything to be sure we put our all into our sport, on the good days and the bad days," Rekieta said. "He is there to motivate and make me a better player each match."
Here's more information on the spring standouts among Pfeiffer's female student-athletes:
Emma Bullin – Freshman – Softball (Ararat, N.C.)
USA South Rookie Pitcher of the Year
USA South Rookie Pitcher of the Week -March 28, April 4
Anna Cheek – Junior – Women's Golf (Rockwell, N.C.)
USA South All-Sportsmanship
Tonishea Ford – Grad Student – Track & Field (Farmville, Va.)
USA South All-Conference – 1st Team (Champion) – Hammer Throw
USA South All-Conference – 3rd Team – Discus
USA South Field Athlete of the Week – April 4
Gracie Griffin – Freshman – Softball (Calabash, N.C.)
USA South Rookie of the Year
USA South – East Division – 1st Team – Outfield
Mattie Hinson – Junior – Softball (Norwood, N.C.)
USA South Player of the Week – April 4
Ashlyn Kennedy – Senior – Softball (New London, N.C.)
USA South – East Division – 1st Team – Pitcher
USA South Pitcher of the Week – Feb. 28
Caiti Mickles – Senior – Softball (Boonville, N.C.)
USA South All-Conference – Utility Player
USA South – East Division – 1st Team
USA South Player of the Week – April 25
Alexis Murriel – Junior – Women's Lacrosse (Gastonia, N.C.)
USA South All-Conference – 2nd Team
USA South Defensive Player of the Week – March 7, March 28, April 25
Jordan Pendergraft – Sophomore – Women's Lacrosse (Apex, N.C.)
USA South All-Conference – 2nd Team – Goalkeeper
Megan Rekieta – Freshman – Women's Tennis (Lubbock, Texas)
USA South All-Conference – East Division – 2nd Team
USA South All-Sportsmanship
Analise Robinson – Freshman – Women's Lacrosse (Winston-Salem, N.C.)
USA South Rookie of the Week – March 21
Alex Stancell – Junior – Women's Track & Field (Liberty, S.C.)
USA South All-Conference – 3rd Team – Discus
Aaliyah Thomas – Senior – Women's Track & Field (Pawley's Island, S.C.)
USA South All-Conference – 2nd Team – Hammer Throw
USA South Field Athlete of the Week – March 7, March 28, April 11
USA South All-Sportsmanship
Alexis Walter – Senior – Softball (Taylorsville, N.C.)
USA South – East Division – 2nd Team – 2nd Base
USA South All-Sportsmanship
Kyndell Warren – Junior – Softball (Lenoir, N.C.)
USA South All-Conference – Shortstop
USA South – East Division – 1st Team – Shortstop