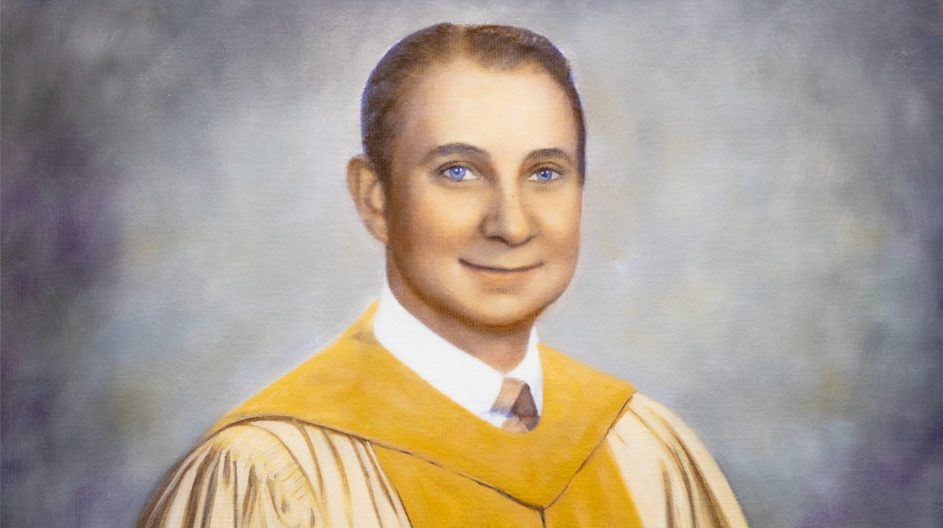 Pfeiffer Mourns the Loss of Dr. Jack J. Early, Former President
by Ken Keuffel
Feb 1, 2022
It is with great sadness that Pfeiffer University announces the death on Jan. 22 of Dr. Jack J. Early, its President from 1969 to 1971. He was 96 and living in Louisville, KY.
While at Pfeiffer, Early oversaw the construction of the Merner Health and Physical Education Center. He was also credited with improving communication between the student body and Pfeiffer's administrators and faculty. During his Pfeiffer tenure, students began serving on every faculty committee, and the President of the Student Government Association became a non-voting member of the College's Board of Trustees.
"Pfeiffer mourns the loss of this important figure in our institutional history. As I walk by his portrait every morning on the way to my office, I recall and am challenged by Early's commitment to academic excellence, vibrant campus ministries, and his accomplishment of building a first-rate facility for our winter sports in the late 1960s. His service to Pfeiffer and his lifelong dedication to United Methodist-related higher education will always be remembered, and will always inspire us," said Pfeiffer President Scott Bullard.
Early served as Pfeiffer's fourth President, assuming office in July 1969 at what was then Pfeiffer College. He came to Pfeiffer from Dakota Wesleyan University in Mitchell, S.D., where he served as President for 11 years. He left Pfeiffer to become the Executive Director for Education at the American Bankers Association in Washington, D.C. He also served as President of Limestone University in Gaffney, S.C.
Early held several advanced degrees, including an Ed.D. degree from the University of Kentucky and a B.D. degree in religious education from Lexington Theological Seminary. A lifelong Methodist, he became an ordained minister in 1954, but he began preaching as a high school student.
Early was preceded in death by Nancye Whaley Early, his wife of 64 years. He is survived by several daughters, sons-in-law, grandchildren, and great-grandson.
In lieu of flowers, Early's family members are asking that donations be made to "Early" scholarships established at the following schools:
Union College, 310 College Street, Box D004, Barboursville, KY 40906 or unioncollege.givingfuel.com;
Kentucky Wesleyan College, 3000 Fredericka Street, Owensboro, KY 42301 or kwc.edu/give; or
Dakota Wesleyan University,1200 West University Avenue, Mitchell, SD 57301 or give.dwu.edu.
A memorial service for Early will be held at 1:00 p.m. on Saturday, February 5th at Pearson Funeral Home, 149 Breckenridge Lane in Louisville, with visitation beginning an hour earlier.