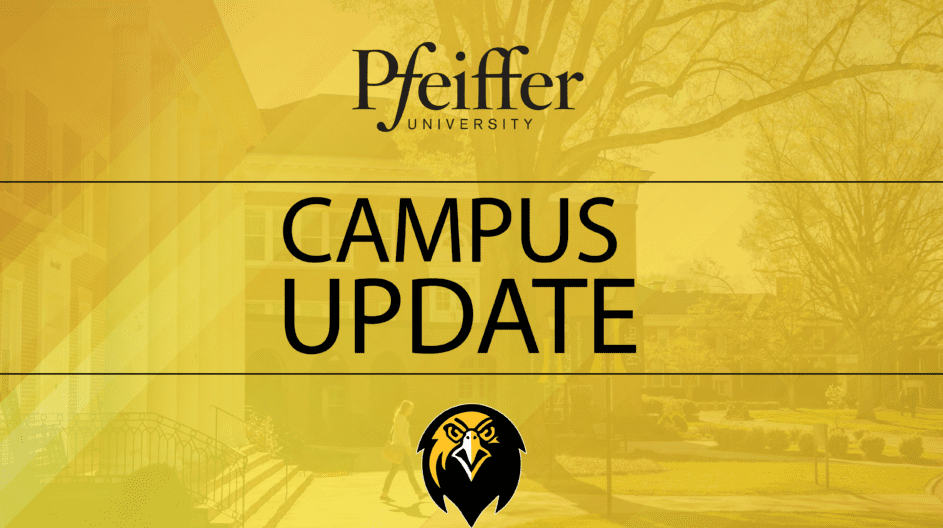 A Statement from President Bullard Regarding Today's Events
by Casey Habich
Mar 24, 2022
Pfeiffer Falcons,
As I reflect on the frightening experience we encountered today, I pray a prayer of thanks that this situation was not worse and that we are all safe.
Although there was no evidence of a legitimate threat to our campus, the response was very real. The emotions we felt during our brief lockdown were real. The text messages and phone calls to our loved ones were real. As we attempt to understand our experience better, may we always be reminded of the good in our lives and appreciate each day.
Pfeiffer University is a safe campus. As a result of this event today, we learned just how safe we truly are. Within minutes of the false report, law enforcement agencies and first responders from Stanly, Cabarrus, and Rowan County arrived on campus to protect you. Nearly one hundred officers spread across our campus to confront potential threats and clear each building as safe. The swift action of law enforcement was met with an exemplary response by our campus community.
Students, faculty, and staff, I want to thank you for the acts of care and personal responsibility that was shown for each other's well-being in the face of what we responded to as an immediate threat.
In the days to come, Pfeiffer University will review and evaluate our response to this event. Our first priority is the safety of our community. To improve our response as a campus, we strongly encourage all campus community members to download and utilize the LiveSafe Mobile app. LiveSafe is our primary channel to communicate emergencies and alerts through text message, email, and push notifications. The app is readily available for multiple platforms.
Thank you for the expressions of concern related to the events on campus. Several of you have asked whether we will have classes tomorrow as normally scheduled.
Please know that, because of the assurances that we have received from law enforcement that any danger to campus has been mitigated, classes will carry on as scheduled.
Thank you for looking out for one another and sharing our commitment to safety and truthful communication. As we look forward to a new day, we are grateful to be together again tomorrow.
Sincerely,
President Bullard