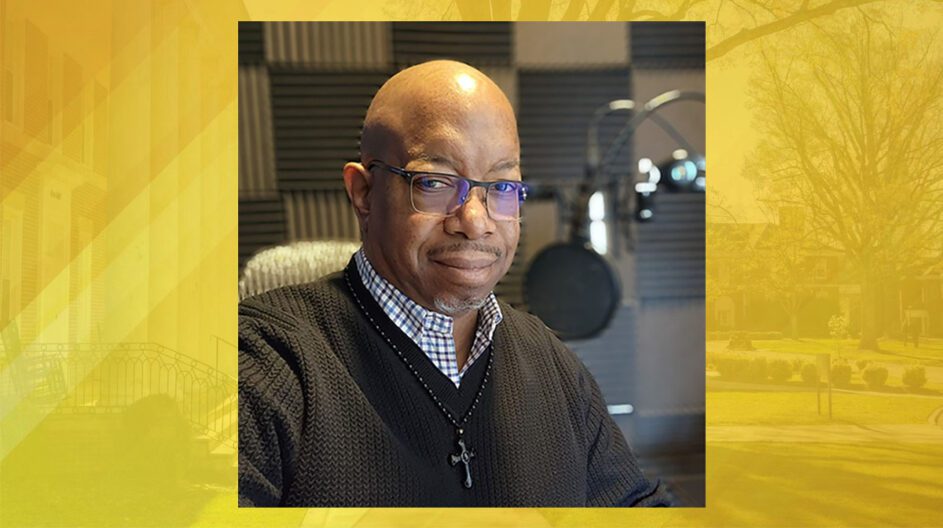 A Golden Voice Marked by Versatility and Verve
by Ken Keuffel
Oct 10, 2023
Vince Eury '87, who majored in music education at Pfeiffer College and sang in its Concert Choir, likes to make his voice heard. And he keeps finding new ways to do it.
"I'm always on the lookout for the next adventure," he said. "Versatility has become one of my calling cards."
Eury's resume bears this out. A resident of northern Virginia who lived in Salisbury, N.C. during much of his youth, he has been a professional singer for some time. When he performs, his rich bass reveals a knack for phrasing that brings out the emotions, storyline, or romantic tension in a song, and he demonstrates an ability to capture the comedic elements of lyrics.
Eury has enjoyed a rich and varied career in music. He once sang popular fare in an ensemble of the United States Navy, having become a Navy balladeer when his constant singing on the job so captured the fancy of a commanding officer that he changed the focus of Eury's military service overnight.
Eury's stint in the Navy Band lasted six years, and he now works as a Senior Personnel Security Specialist at the Department of Health and Human Services in Washington, D.C. His current focus is singing jazz, his first love. He is featured on recordings of classics performed by the Annapolis-based Unified Jazz Ensemble, including one of "Autumn Serenade," by Johnny Hartman (1923-1983), whom Eury strives to emulate, in addition to two other late, great talents of vocal jazz: Nat King Cole and Joe Williams.
"These giants had great careers," Eury said. "I feel that their legacies are kept alive only if you keep them alive; that's why I champion them."
Singing is now but one part of Eury's vocal art: Since 2020, he has also made his mark as a voice-over actor, having been featured in everything from commercials for campaigning politicians to "e-learning" clips on subjects such as safety assessments, birds, and stem cells.
"From the beginning, I've always thought my voice was best suited to various corporate, commercial, political and e-learning genres," said Eury, who counts Samuel L. Jackson among his strongest influences. Jackson has acted in more than 100 films, but it is his work as a pitchman who
declares "What's in Your Wallet?" in Capital One commercials that resonates most with Eury.
Voice-over acting is an incredibly competitive field, and Eury is contending with potentially thousands of candidates for each job he pursues. That said, there are reasons to think that he will build on the success he has achieved so far.
He has discovered his niche and is concentrating on finding work that best aligns with it. He is working hard to perfect the craft of voice-over acting, often working in his well-equipped home studio via Zoom sessions with J. Michael Collins, a leading coach of voice-over actors.
Eury sought out Collins just as he was getting started in voice-over acting, and Collins was impressed enough by Eury's potential that he quickly accepted him as a pupil.
"Vince has an incredibly rich baritone sound that's comparable to that of Barry White and other iconic talents, with some range to stretch into somewhat brighter reads as well, when called for," Collins said. "His sound and his very clear enthusiasm and dedication to the craft of voice-over acting made working with him an easy call."
Collins added that Eury "immediately understood how to bring presence and gravitas to his delivery. We took time developing his ear to better navigate nuance and acting, to connect with the copy on a human level."
Collins thinks that Eury will secure even more work in voice-over acting as he gets more "at bats," by which he meant more auditions and talent agent connections.
"The more people who hear him, the more he will book," he said.
Eury credits his success in singing and his successful transition from singer to singer/voice-over actor to the professionalism that Dr. Richard Brewer (1921-2006), a former Professor Emeritus of Music, instilled in him during the one academic year (1983-1984) that Eury spent at Pfeiffer. He left the College after his freshman year to care for his ailing mother.
In addition to developing his voice, Eury also learned how to take direction under Brewer's instruction, which was an advantage as he began breaking into voice-over acting.
"As a voice-over actor, you need more than just a great voice," Eury said. "You have to know how to respond when someone says, 'We need more of
this, and less of that.' If you don't know how to take direction, then it's not going to work out for you."
Brewer led the Pfeiffer College Concert Choir, a touring ensemble in which Eury emerged as a bass soloist.
"Dr. Brewer developed me as a bass," Eury said. "He gave me the voice I didn't even know I had through training and things of that nature. I think he saw something in me, and although I worked with him only for a year at Pfeiffer, I never lost what he gave me, the jewel he gave me."