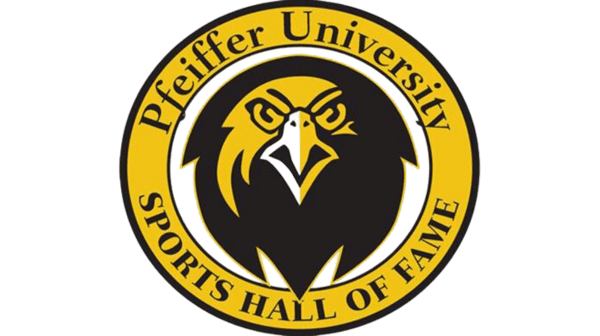 2023 Hall of Fame Inductees Announced
by Ken Keuffel
Jul 25, 2023
On Sept. 23, the Pfeiffer University Sports Hall of Fame will induct four new members during Homecoming weekend on Pfeiffer's Misenheimer, N.C. campus.
They include Jerry Bryson '60, a former standout catcher, and Andrea Nachtman Blair '92, who starred on the volleyball court. Nathan "Sasa" Regis '17, '21 MBA is being recognized for his record-breaking contributions to men's soccer. The 2002 Men's Cross Country team rounds out the Class of 2023 in honor of an unusually stellar record.
Congratulations to the 2023 Pfeiffer University Sports Hall of Fame Inductees:
Jerry Bryson '60
Bryson, a catcher, transferred to Pfeiffer College after playing his first two years of college baseball at UNC Chapel Hill. He became a star contributor to some of the first Pfeiffer teams coached by the late Joe Ferebee, who became the winningest baseball coach in North Carolina college and American Legion history. Between 1956 and 1987, Ferebee won 677 games as Pfeiffer's head coach.
In a Salisbury Post article from 2019, Bryson said he was often called "Joe Jr." because he so embraced the sound fundamentals that Ferebee required of his catchers. Ferebee's coaching prowess rubbed off on Bryson, and he served as the Head Baseball Coach at Gardner-Webb Junior College (now Gardner-Webb University) from 1966 to 1980. He became a member of Gardner-Webb's Athletics Hall of Fame in 1992, having compiled a 305-87 record over 14 seasons. He also coached seven All-America players during his tenure at Gardner-Webb and took the school to two Junior College World Series.
The 2002 Men's Cross-Country Team
Bob Marchinko, the Head Coach of Pfeiffer's cross-country and track and field teams since August of 2022, coached the men's cross country team at Pfeiffer from 2002 to 2005. He calls the 2002 team "a very special group." And no wonder: It was the only Pfeiffer cross-country team to win the CVAC Championship during the University's time in Division II. The team produced four all-conference runners, won five of the seven meets it entered, and was undefeated against Conference schools that year.
The team, which consisted solely of local talent, earned runner-up honors at the NCAA Southeast regional meet, and finished 24th at the national championships in Ashland, Ohio, running in snowy conditions.
Michael Whitley '04, a member of the 2002 squad, called its forthcoming induction into the Hall of Fame "very rewarding."
"We are very proud of what we were able to accomplish together," he said. "Having this enshrined in the Hall of Fame forever cements what we did in Pfeiffer history, and that is insanely cool. I'm very humbled and extremely honored by this recognition."
Whitley credits a "combination of several things" with the team's success. A major factor was Marchinko: "He knew what we needed to do to become the best runners we could be. He pushed us to heights we never dreamed possible, but most importantly we all knew he was all-in right beside us; he believed in us."
Christopher Lamperski '04 echoed Whitley's sentiments about Marchinko: "He explained in simple terms the work that we needed to put in to get where we wanted to go as well as working on the mental structure of racing."
Under Marchinko's leadership, the runners became what Whitley called "ferocious competitors" who forged an exceptionally strong bond.
"That bond held us to a different level of accountability to one another," Whitley said. "We couldn't let our brothers down. We couldn't let Coach Marchinko down."
Andrea Nachtman Blair '92
Blair, a standout on the volleyball court, will likely always remember the fall of 1991. That's when Pfeiffer College hosted — and won — the Conference Carolinas tournament.
"Our team played great, and our fans got to see us win," she said. "I was honored to receive Conference Carolinas Player of the Year after that game. I still remember receiving that award."
Other honors came Blair's way. She made the All-District 26 team. She was named the NCAA's 1992 Woman of the Year for Pfeiffer College, having led the Lady Falcons to a 6-1 conference record and a 13-11 record overall. Specifically, the Woman of the Year award recognized her athletic abilities, exemplary leadership, and dedication to community service.
Blair feels "very blessed" to join the 2023 Class of the Pfeiffer University Sports Hall of Fame.
"It is an amazing surprise," she said. "Pfeiffer has always held a special place in my heart and for Pfeiffer to feel this way about me, I feel doubly blessed."
Nathan "Sasa" Regis '17, '21 MBA
In 2015, the men's soccer team of Pfeiffer University won the NCAA Division II Men's Soccer National Championship, capping off an undefeated season. In October of last year, the squad, coached by Bob Reasso '73, was inducted into the 2022 Class of the Pfeiffer University Sports Hall of Fame.
Regis was a major reason for this success. He was a two-time National Offensive Player of the Year, and he was the 2015 NCAA II Tournament MVP. He emerged as a scoring machine, breaking Pfeiffer records for career goals (85); single-season goals (32 in 2015); single-season points (32 goals, 7 assists in 2015); and career points (85 goals, 29 assists).
These statistics were only part of the story: Reasso praised Regis for playing soccer with "a power and grace rarely seen on the soccer field."
"Sasa was a wonderful captain and leader both on and off the field," his coach added. "He was one of the greatest goal scorers in NCAA history, using his athleticism, technical ability, and bravery to lead Pfeiffer and the NCAA in scoring.
"His passion for his teammates and Pfeiffer made him a very unique person and player. On a personal note, he has enriched my life more than he will ever know and is truly like a son to me."
Regis said he was "beyond grateful" to enter the Sports Hall of Fame at Pfeiffer, as an individual inductee.
"The University has changed my life as a student as well as an athlete," he said. "It has taught me discipline, perseverance, sacrifices and respect for the game of soccer. And it has added some amazing people (teammates, coaches and faculty) to my family – people who have shaped my life in ways I can't begin to explain."
The 2023 Pfeiffer University Sports Hall of Fame Induction Ceremony is scheduled for Saturday, Sept. 23, 2023, in Merner Gym on the Pfeiffer University campus.
To register for this and other Homecoming events, visit www.pfeiffer.edu/homecoming2023.